Carrara Marble
Carrara is a type of white and grey/white marble, popular since Roman times. It is quarries from the steep mountains near the coastal city of Carrara in Tuscany, Italy, which was made famous by Renaissance artists such as Michelangelo and Leonardo da Vinci, who favoured the marble from this area for their statues. Today, much of the quarrying activity is carried out through mining underground, to help mitigate further environmental damage caused by years of extraction activity.
Carrara is typified by a white or grey to blue/grey background colour with a feathery latticework of grey veining. Carrara marble is closely related to Calacatta and Statuario marble which are also quarried from the same mountains (see below for the differences between Carrara, Calacatta, Statuario and Arabescato).
The Carrara Marble Family – the differences
Carrara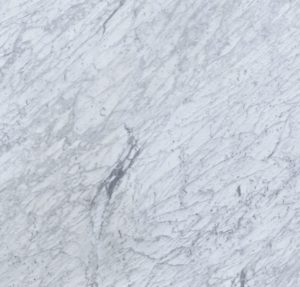 This is the most common Italian marble named after the region it comes from. Carrara's background colour tends to be on the grey side – even bluish/grey, and is characterised by soft feathery grey veining.
Calacatta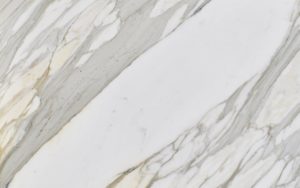 Calacatta marble is whiter than Carrara and is considered more luxurious in its appearance, and for this reason will command a higher price than Carrara. The veins tend to move in a linear direction, are thicker and more dramatic, and can range in colour from gold (Calacatta Oro) to brown, beige and dark grey.
Statuario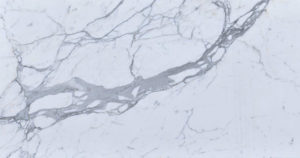 Statuario marble gets its name from the 'Statues' for which it is prized. Think Michelangelo's David! This stone has a bright white background with less colour variation than Calacatta. The veins are often dark grey, more subtle and elegant, and there's a lot of contrast between light and dark.
Arabescatto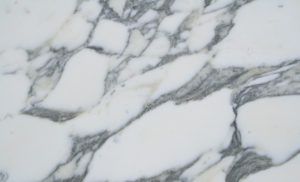 Arabescatto is distinctive for its bold 'rubble like' marbling, which appear to be joined together by a dark grey to almost black matrix.